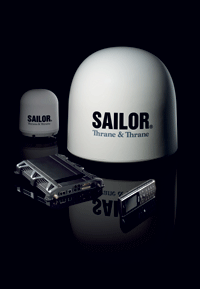 FREE SHIPPING available for this item when using UPS Ground.
Model #: SAILOR-FBB-500
Description:
SAILOR Thrane & Thrane FleetBroadband 500 (without 19" rack ).The crew will love it. And the ship owner will need it, saving both time and money enabling voice and data simultaneously. The SAILOR FleetBroadband 500 offers a reliable high-speed IP communication with seamless coverage on the Inmarsat footprint. Seafarers are highly skilled professionals who expect to be able to stay in touch with friends and loved ones. Ships are becoming an integrated part of the office infrastructure, raising demands for better data rates and improved connections. For the first time in history it is now possible to get affordable IP communication on board. Kit Includes: 1 Antenna (ADU). 1 Terminal (BDU). 1 Power Supply. 1 VoIP Handset. 1 VoIP Handset Cradle. 30M Antenna Cable* (*Note: if replacing an existing Fleet system the same cables can be re-used.). 1 Accessory Bag with: 1 Power connector w/ 1.5M power cable. 1 I/O Connector. 1 "pig-tail" N-TNC adapto. 1 ea. FBB500 User & Installation Manuals. 1 CDROM w/ SW and Manuals.

Cost Effective access to data services
Data Speed up to 432Kbps
IP connection for e-mail and internet/intranet access, including secure VPN ISDN
Voice and data simultaneously
Small size hardware
Telephone Functionality ,Phone book ,Message indication ,Restricted dialling , Traffic logging
Set-up and Router Functionallity ,Web server ,Built-in NAT router
Shipping Weight: 101 lbs.
Retail Price: $29000.00
Our Price: $13179.00

You Save 55%










Phone: 305-444-3911
Fax: 305-444-3912
Email: info@marinewholesales.com