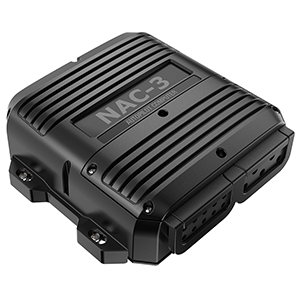 FREE SHIPPING available for this item when using UPS Ground.
Model #: 000-13250-001
Description:
Simrad NAC-3 High Current Course Computer.The NAC-3 Autopilot Computer is the brains behind your Simrad autopilot system. It contains the electronics needed to operate a hydraulic steering pump or mechanical drive unit, while also interfacing with other components including heading sensors and rudder feedback units. The NAC-3 was designed for boats 10M (33') or greater in length and is rated to operate high-current pumps, mechanical drive units, and solenoid valves (30 Amps continuous/50 Amps peak).

Reliable autopilot performance based on Simrad Continuum™ steering technology
Recommended for boats above 10M (33') in length
Shipping Weight: 5 lbs.
Retail Price: $1499.00
Our Price: $1499.00








Phone: 305-444-3911
Fax: 305-444-3912
Email: info@marinewholesales.com