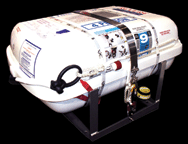 Model #: R/R-6M-A-L
Description:
OceanMaster 6 Ocean A-Pack Low Profile liferafts USCG/SOLAS.Container - 'Low Profile' (w/ cradle & hydro). Low Profile Container liferafts.are renowned for their uncompromising quality and design sophistication. In addition to meeting the requirements of the International Convention of the Safety of Life at Sea (SOLAS) 1983, as amended, the Surviva is manufactured to NATO AQAP 1 quality standard and holds approvals from most major international marine authorities, including the United States Coast Guard and UK Department of Trade. Today, there are over 40,000 Surviva liferafts in service on commercial, naval and fishing vessels worldwide. Meeting the needs of all types of commercial craft, the Surviva range comprises of two different models — standard throw over and davit-launched. These rafts come in a variety of sizes accommodating 4,6,8,10,12,16,20 and 25 persons. SOLAS A Emergency Pack: Pack consists of bailer, paddles, topping-up pump, sea anchor, sponges, parachute flares, smoke signals, hand flares, repair kit, drinking cup, seasick tablets, flashlight, flashlight batteries, flashlight bulb, signal mirror, first aid kit, fishing kit, can opener, whistle, food, water, thermal protective aids and seasickness bags. (PRICES ON CONTAINERS INCLUDE GRADELE & HYDROSTATIC RELEASE UNIT)

OceanMaster 6 - U.S.C.G. Approval # 160.151/A121/0
USCG/SOLAS.Container - 'Low Profile' (w/ cradle & hydro).
Shipping Weight: 350 lbs.
Retail Price: $6200.00
Our Price: $3426.99

You Save 45%










Phone: 305-444-3911
Fax: 305-444-3912
Email: info@marinewholesales.com